Choosing curtains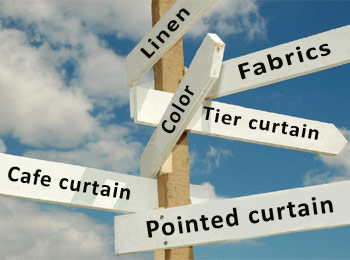 What style for my sheer curtains
We offering a large range of curtains and often asked the question about the type of curtain for your window choose to have a harmonious decor in your home. All these little curtains have the particularity to bind directly to the window with small rods. They do not usually stand in the window as a curtain panel that is rather attached to the wall or ceiling with a rail. These curtains come in several forms :
The classic cafe-curtain
is available by the meter in the direction of width, often finished shell, the curtain to the advantage of being available in wide. Our site offers you to select the dimensions that match the pattern to always have complete scales. The price remains the same as the cafe curtain by the yard. You will find for example this kind of curtain on the model "Broderie Anglaise", "Marguerite", "bouquet". Models "Lavande", "marine" and "Jade" very original are embroidered on a blend etamine and organza material.
The pointed curtain
is perfect to give a style and a beautiful fintion on the bottom, you may decorate with a small tassel. You can find this style in different versions :
The pointed curtain are made up of measures available with the model "linen" which remains classic and understated style "Alice" prepared on a light sheer, the model 100% linen "campagne" with small orange colors and finely embroidered edge model "Florentin" made on a sailing terylene linen and finely embroidered. These models can also be made in straight finish to get a complete blackout from the outside.
The small sheer curtain
in general complete the entire window and is in greater height than a tier curtain. The advantage is to maintain maximum privacy of your home. These windows are available by the yard in the vertical direction, you will find among other things that kind of curtain on the model "pointe", "oranger", "point de coix", "Edelweiss", "bord de mer" ...
Macrame lace cafe-curtain
gives a familiar flavor, they offer a lot of charm and harmonize perfectly with the victorian decor. These curtains are among the only ones to give a beautiful effect both from the inside and the outside. They are a bit more expensive, but nice outfit and maintain their exceptional stay. Macrame is timeless and exists in several variations, with colors or mixtures of organza and etamine, it allows them to be used for more modern decorations without fault of taste.
Macrame curtain colors can also marry with a more contemporary design, such as models "mimosas", "Fruits" or "Floral", excellent drop and models "printemps", "paquerettes" with a light pattern leave a romantically decorated with pastel colors.