Visit of the Worshop
Tourism in Villers-Outréaux, the city of machine-made macrame embroidery. Free visit of the workshop.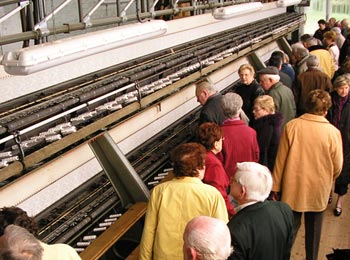 The Cazé-Ducamp embroidery factory offers a free visit of the workshop in Villers-Outréaux, city of the French embroidery for more than 100 years.
During the visit, you will see an embroidery machine still at work. You will discover a craft know-how transmitted from father to son since 1931. You will have the unique opportunity to discover the process of embroidery and macrame production.
It is extremely fascinating – an enormous machine weighing several tons and measuring more than 17 metres, with more than 1000 needles embroiding the finest, delicatest piece of fabric. The show is captivating.
Explanations and production details can be given to you in French, English or German.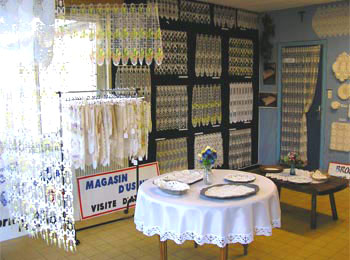 You will also be able to visit our factory shop and take advantage of our factory prices.
This visit is also designed for groups up to 150 persons. The workshop is open to the public every day from Monday to Saturday and on Sundays on appointment only (one week in advance) from 9 to 7 pm.
Contact us now to book your visit. We produce macrame curtains, cafe curtains, table-cloths, table-runners, bedspreads in any size.
When you are in Villers-Outréaux, you can also visit the house of embroidery (tourist information) where you will admire the embroideries crafted in the area as well as an old embroidery frame.
Geographical situation
Broderies CAZE-DUCAMP
4 Rue Gambetta
59142 Villers-Outreaux
Phone : +33 (0)3 27 82 02 15
The Cazé-Ducamp embroidery factory are situated 18 km south of Cambrai (Cambrai –Saint Quentin road).
Exit 9 (Masnières) on highway A26.