How to care macrame lace- What is macrame lace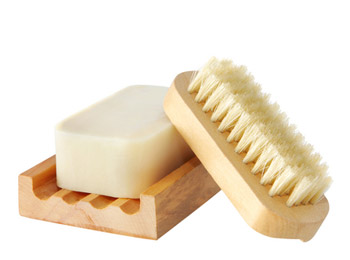 Is macrame lace fragile, how do I take care of it ?
Macrame is not fragile at all, it is made with many embroidery stitches and can be machine washed at 30 °C in a small net bag to prevent it from getting hung up on the washing machine's agitator. Ironing is not necessary, unlike crocheted constructions. Macrame is very resilient, it does not deform or fray.

For small curtains and cafe curtains, you can hang them on the window slightly damp (medium spin), without ironing.

For very tall curtains (over a meter and a half tall), it is prefereable to spin them a bit harder (800 rpm approximately) so as not to make the curtain too heavy, you can also let it dry flat to prevent minor lengthening of your curtain.
How can I tell the front from the back on macrame lace ?
The difference is not obvious at first glance, but the front has more relief and is often shinier, and the back is flatter and often more matte. It is generally preferable to use the front on the inside of your house.
Can macrame lace deform, will it change color ?
Our macrame lace will keep its shape, even after many machine washings. Our colors are airbrushed on by hand using indelible ink and are resistant to light. However, we recommend washing macrame at 30 °C without too much detergent, to keep its original color. We also advise you for your colored macrame curtains to place them inside your house so that the sun does not fade your colors.

It is true that ecru colored macrame tends to lighten over time, which can be an advantage for some people who prefer a lighter color, but may be a drawback for others. Advice: For those who want to maintain an ecru color, you can occasionally dye it using a tea bath to regain a more ecru color. 1 to 2 teabags in a half bucket of hot water.
Upkeep of net curtains and small cafe curtains :
Our net curtains are generally made from 100% polyester, which makes them very easy to maintain. Net curtains can be machine washed with no problem. You can hang them slightly damp after medium spin in the machine in order to put them back in place in the window. If you want an impeccable finish, ironing is necessary.

Tip for keeping net curtains in their like-new condition: When washing them, add 2 packets of baking powder to the rinse water.

Brise-bise curtains that are all or part organza require light ironing: set the iron to low heat so as not to wrinkle the netting.
Can macrame lace be made by hand ?
Even if it ressembles a crochet piece, macrame lace is completely different in its construction, it is embroidered by machine with a much thinner thread and has thousands of embroidery points and cannot be done by hand. Macrame also takes a very long time to manufacture, even by machine
What does macrame lace look like, how is it different from lace ?
Macrame is embroidered mechanically on a fabric support that then is removed. Mechanical lace is more like a form of weaving, the work is not at all the same.
In terms of the appearance of macrame, it is much thinner than a hand crocheted piece, and a bit thicker than lace.
What is macrame lace ?
Embroidered macrame is embroidered mechanically on a support of cotton fabric treated specially so that it can disintegrate under heat. This embroidered fabric is placed in a furnace at nearly 200°C so that it can be dissolved, and nothing is left behind but the embroidered thread which has a particular effect that can only be found in embroidered macrame.
Watch the video of our embroidery craft in action.
Why does macrame lace cost more ?
Macrame takes a very long time to make, even this embroidery made mechanically takes a great deal of time to manufacture. Macrame lace is made from thousands of embroidery points. In general, to make a width of 24 inches, a full day is sometimes needed for its creation.