Table lace measuring guide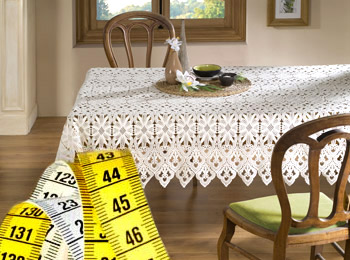 How do I choose the dimensions of my table runner?
Your table runner should never be the same dimensions as your table. It can be placed in the middle of the table, revealing the wood of your table or furniture.

In fact, all dimensions are good, because it is according to your taste and the look you want to give your table or furniture that you will choose your dimensions. You can even let it overhang a few centimeters on each side.
But in general, to give your table a nice look, you can figure 8 to 12 inches of exposed furniture on each side. For example: For a 80 inches long table, your table runner can be between 56 and 64 inches.

Table runner widths are often between 14 and 22.4 inches. We have small table runner widths that also adapt very well on sideboards, buffets, fireplace mantels, pianos. (For example, the Chambord, Catherine models).
How much overhang for my macrame lace tablecloth?
Macrame is very rich and requires less overhang than a traditional tablecloth. In general, you can figure on 8 to 12 inches of overhang on each side of your table. The ideal is 10 inches. For example, for a table with a top measuring 36 X 80 inches, we advise a macrame lace tablecloth measuring 56 X 100 inches.
What dimensions do I use for my macrame lace bedspread?
As a general rule, the finishing of the bedspread stops at the bedstead to highlight the finishings, if you do not have a bedstead, your bedspread can stop a few centimeters from the floor.
Advice on choosing ecru, natural, or white colors?
"Natural" and "ecru" colors go very well with rustic decoration, with waxed and varnished wood, and we strongly recommend these colors for table runners, tablecloths, tablemats, and bedspreads. White is a factory white which is brighter and often gives too much contrast. The "ecru" and "natural" colors lend themselves quite well to most interiors and yield a softer, more natural look to the eye.

It is true that ecru colored macrame tends to lighten over time, which can be an advantage for some people who prefer a lighter color, but may be a drawback for others. Advice: For those who want to maintain an ecru color, you can occasionally dye it using a tea bath to regain a more ecru color. 1 to 2 teabags in a half bucket of hot water. Here is the color preview:
Ecru color
"Natural" color
White color