Our Compagny – Our services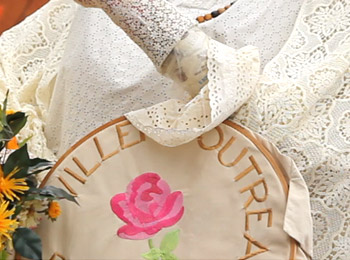 Who are we?
Broderies Cazé-Ducamp manufacturer and creator of embroidery, is located in northern France. We have been working in this artisanal manner since 1931. We have been selling at retail in our factory store in Villers-Outréaux (Cambrésis) since 1976. We created our online store in January 2005. All the information about our company can be fount in our who are we section and our general terms of sale.
Do you have a paper catalogue?
Our website https://www.macrame-lace.com gives you access to our FULL catalogue, updated quite often with new idems, Visit it often. All of our loveliest models of cafe curtains, net curtains, macrame curtains, tablecloths, tablemats, table runners, etc. are on display there. A large number of dimensions are available online, in different colors, Unique on the web. Select your dimensions with a simple click, in order to get access to our prices and order directly online or by telephone or mail, and take advantage of our promotional manufacturer's prices in our online store. For now, we do not have a paper catalogue.
Do you supply merchants?
Yes, if you are a merchant, maje a request in our professional area which is fully dedicated to you, and take advantage of many benefits. Click on the button at the bottom of the site Professionnal Access
Do you follow up on your macrame models?
Yes, we are the manufacturer and consequently, all our macrame models are followed up on, even after several years. You can dress a window all at once or match the collection of cafe curtains, and curtains with your tablecloths, tablemats, and table runners...
Can I get samples?
We can send you netting samples so that you can see the colors and transparency. However, we cannot send you samples of macrame or curtains: We invite you to read the descriptions of the product pages well. If you have doubts on the choice of your product reference, don't hesitate to share them with us, we have many years of experience in retail sales, we can advise you in choosing your model. If you have a doubt on the level of quality or resilience of our creations, we recommend you try an item. You will be satisfied, or your money back. If the item does not suit you, you will be refunded.
For more information on this guarantee: money back guarantee.
Can you make a specific design or measurement?
Yes, for net curtains, macrame curtains to order, and looped curtains, we can make your curtains with a custom head or rod pocket dimension. Don't hesitate to tell us when you place your order, a field has been placed on our site just for this purpose.
How can I get an estimate?
You can get an estimate immediately online based on your dimensions, by entering your measurements and your options. Use our virtual shopping cart without confirming your order to find out the final cost. You can contact us for any special requests.
When will my bank card be charged?
Your card will be charged when your order is processed. Your card number is collected by the CIC Bank secure website (SSL protocol), we don't have access to your information but we can confirm, delay, or cancel your payments made on our site. We will never confirm a payment if your order is not available.